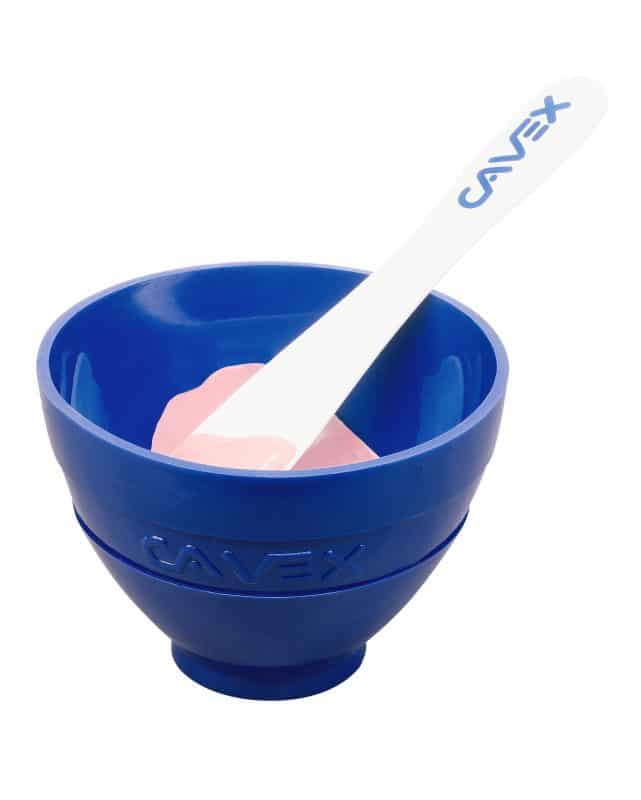 Cavex alginate accessories
Various external factors can influence the quality of alginate impressions. This includes the water temperature, mixing ratio, mixing technique, and storage conditions. Cavex has developed various alginate accessories to optimize and standardize these external factors. With our alginate accessories, you can always rely on a perfect alginate impression.
Alginate accessories
The following accessories are available:
The alginate container for controlled storage and exact dosing of the alginate powder
The water dosing bottle for a controlled, constant water temperature and exact dosing of the water
The flexible mixing bowl with mixing spatula (spatula also available in metal)
alginate container
The Cavex alginate container ensures airtight storage so that no moisture can reach the powder. The container is available in two colors so that you can distinguish between multiple alginates. The exact amount of alginate can be measured with the powder scoop.
water dosing bottle
The water dosing bottle ensures that the water is always at a constant room temperature. In addition, the exact amount of water can be measured simply by squeezing the bottle. Overdosing is not possible due to the innovative drainage system. The water dosing bottle guarantees the ideal ratio between powder and water so that the alginate mix always has a consistent quality.
Mixing bowl with spatula
The flexibility of the mixing cup in combination with the mixing spatula makes manual mixing easier and provides better results by reducing lumps and air bubbles. With the Cavex alginate accessories, you can optimize and standardize the entire impression process and ensure a consistent result time after time.
more information
Want to know more about these products? Please contact us or click here for our complete alginate product portfolio.
| Art. nr. | Description | Contents |
| --- | --- | --- |
| AT240 | Cavex Alginate Container blue | 1x Container |
| AT260 | Cavex Alginate Container pink | 1x Container |
| AT021 | Cavex Water Dosing Bottle | 1x Bottle |
| AT041 | Cavex Mixing Bowl blue | 1x Bowl |
| AT042 | Cavex Mixing Spatula plastic | 1x Spatula |
| AT060 | Cavex Mixing Spatula metal | 1x Spatula |
| AT076 | Cavex Scoop & Water Measuring Cup | 50x set |
| AT040 | Cavex Plastic Container transparent (no lid) | 1x Container |
| AT043 | Cavex Plastic Container Lid blue | 1x Lid |