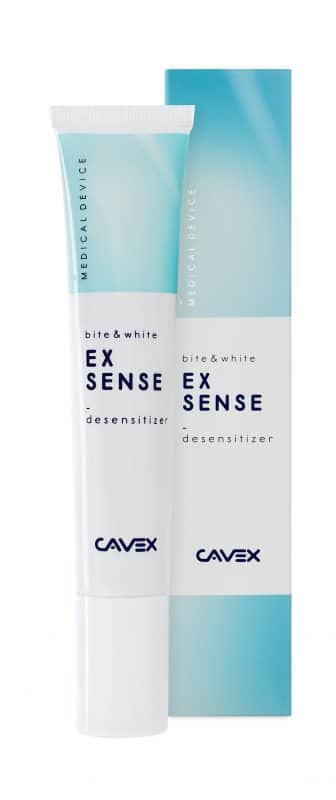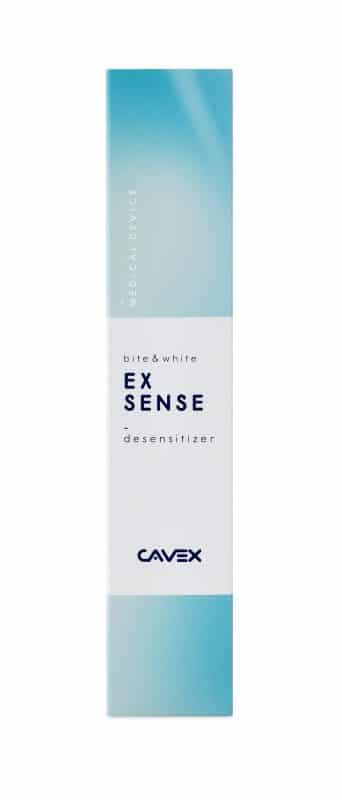 Cavex ExSense
Cavex ExSense is the perfect solution for sensitive teeth. Sensitive teeth often occur as a result of dental erosion or exposed dentin. Cavex ExSense is based on 2% hydroxyapatite that seals the tubules and microcracks in the enamel using a hydro-dispersing sol. In doing so, it completely closes off sensitive areas. The addition of 0.1% potassium nitrate also restores the micro-hardness of the elements. In addition to complete closure, crystallization takes place which supports and accelerates the remineralization process.
Cavex ExSense contains natural ingredients, hence patients can use the product without restriction at home. This desensitizer is a Medical Device Class IIa that meets all European requirements for safety, health, and environment in Europe. Say goodbye to sensitive teeth!
Application
The pleasant tasting gel can be applied in two ways: by rubbing it on the elements gently with the finger, or by wearing it in a tray for about ten minutes. Due to its easy application, Cavex ExSense can be used by practitioners in the practice as well as by patients at home.
More information about this product? Download the brochure below. Visit our distributor's page to discover where the product is available.
Features
Instant and long-lasting relief from sensitive teeth
Helps to prevent sensitive teeth
Accelerates and reinforces the process of remineralization
Polishes teeth surface, luster effect
Slows down the process of plaque formation
Suited for (unlimited) home use
CLINICAL RATING OF 86%
BY THE DENTAL ADVISOR
We value the opinion of the dentist. That is why we let The Dental Advisor test our ExSense desensitizer. After a clinical evaluation by a team of dentists, this desensitizer received a clinical rating of no less than 86%, which corresponds to 4 (out of max. 5) pluses. Professionals praise the quick effectiveness and the simple application method.
Assortment

Brochures

Product info

MSDS

Cases & Research

Publications