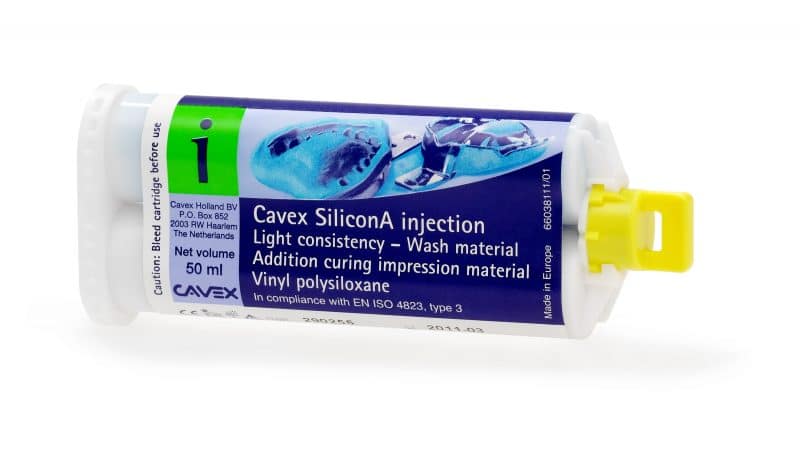 Cavex SiliconA
& SiliconA Bite
Cavex SiliconA is a carefully selected system made of superior silicone material suitable for any clinical situation. Even under wet surface conditions, perfect detail reproduction is guaranteed. Unique to Cavex SiliconeA is the fact that it is non-sticky and therefore particularly easy to work with.
The excellent hydrophilic properties improve wetting abilities leading to better detail reproduction of subgingival areas.  Pouring of the impression can start 60 minutes after the impression is removed from the mouth and all commercially available modeling stones can be used.
Cavex SiliconA does not adhere to surfaces (like gloves) and as a result, trays are easily loaded.  Due to the high quality of the raw materials used, dimensional stability is guaranteed for at least seven days. Even the finest details are shown in the impression.
Cavex SiliconA also has superior thixotropic qualities allowing the silicone to only flow under pressure. Due to the advanced platinum catalyst system, the silicone has optimal polymerization.
Combine the product with Cavex SiliconA Bite for even better results. This user-friendly bite registration material offers 100% accuracy, combined with short processing and setting times. Cavex SiliconA bite ensures perfect bite registration time after time.
Do you want to know more about this product? Download the brochure below. Check our distributor's page and discover where the product is available.
Features
User friendly
100% accuracy
Non-sticky
Excellent long-term dimensional stability
Highly detailed reproduction
Optimal time to cure
Thixotropic, flows under light pressure
Three-year shelf life
Instructions For Use

Documents
Assortment

Brochures

Product info

MSDS