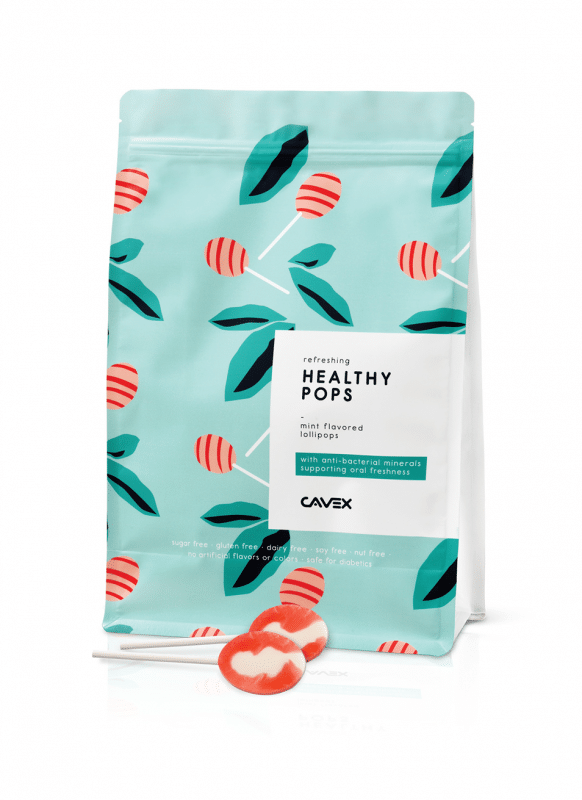 Cavex Healthypops
Lollypops with a dental function! Fight dry mouth and stimulate fresh breath with these unique lollypops. Healthypops are the ideal approach to halitosis and xerostomia in dental clinics. Additionally, the lollypops promote patients' oral care. Furthermore, the lollypops are very suitable as a tasty, yet responsible snack!
Cavex Healthypops are sugar-, gluten-, dairy- soy- and nuts-free and do not contain added aromas or flavors. Consequently, they can safely be used by diabetic patients.
The lollypops are available in three flavors:
Cherry – mouth moistening in case of xerostomia
Orange – fresh breath in case of halitosis
Mint – fresh breath in case of halitosis
To guarantee the quality and taste, Cavex Healthypops are packed per 60 pieces in resealable foil bags.
More information about this product? Download the brochure below. Visit our distributor's page to discover where the product is available.
Features
Sugar-free lollypops with a dental function
Available in cherry, orange, and mint flavor
Relieves dry mouth
Promotes fresh breath
No sugar, gluten, dairy, soy, nuts, or added fragrances and flavors
Suitable for diabetics
FAQ

What is the pH-value of Cavex Healthypops, as they contains citric acid?

To increase the flavor of Cavex Healthypops a very small amount of citric acid is used. As a result the initial acidity (pH) of the Cavex Healthypops was below the critical 5.5. However, this lower pH will not lead to erosion as the erosive potential of a product does not exclusively depend on the pH-value. The erosive potential strongly depends on the buffer capacity of the other ingredients in the product; the polyol mixture and active ingredients in the Cavex Healthypops have a neutral pH-value. Besides, the percentage of citric acid is so low that it will easily be neutralized by the saliva in the mouth. This means the very small amount of citric acid in Cavex Healthypops poses no risk to users.

Where are Cavex Healthypops available?

Cavex Healthypops are available for dental professionals through Cavex distributors. Cavex Healthypops are available to consumers through dentists. In the Netherlands Cavex Healthypops can also be ordered from tandwinkel.nl.

How many Cavex Healthypops can I per day?

You can consume 1-2 Cavex Healthypops per day.

How many Cavex Healthypops are in a bag?

There are approximately 60 Cavex Healthypops in a bag.
Assortment

Brochures

Product info
| Art. nr. | Description | Contents |
| --- | --- | --- |
| BW900 | Cavex Healthypops Cherry | 60x Lollipop (454 gr) |
| BW901 | Cavex Healthypops Mint | 60x Lollipop (454 gr) |
| BW902 | Cavex Healthypops Orange | 60x Lollipop (454 gr) |