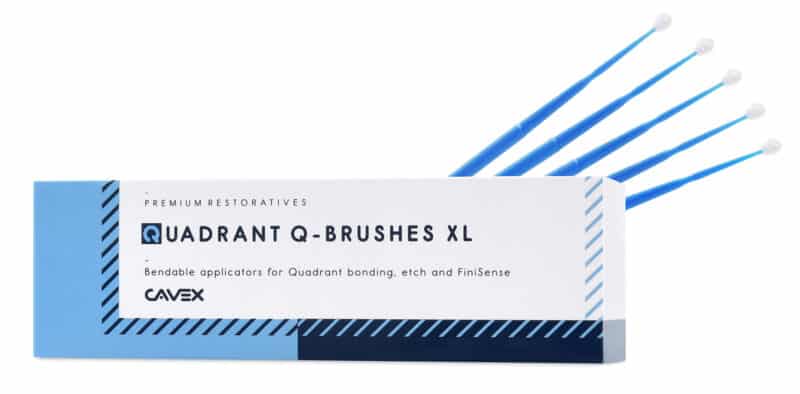 Quadrant Supplements
Q-Brushes XL
Quadrant Q-Brushes XL are extra-large disposable application brushes for the application of primer, bondings, and desensitizers.
These bendable brushes can be used for multiple purposes. Once bent, the brush will maintain a fixed position. The extra-large application brushes significantly aid when applying larger amounts of liquid.
Features Q-Brushes XL:
For the application of etch, bonding and desensitizer
Brushes can be bent in different positions
Brush maintains desired position
XL size
Quast
The Quadrant Quast, or 'Quadrant Anterior Shine Tool', is a brush specifically selected for the precise application and distribution of Quadrant Anterior Shine. This revolutionary brush realizes superior composite facings. The Cavex Quadrant Quast was developed in collaboration with Dutch dentist and prominent opinion leader Hein de Kloet.
Features Quast:
Specifically developed for the application and distribution of Quadrant Anterior Shine
Developed in collaboration with Hein de Kloet
For superior composite facings
Q-Systemizers
The Q-Systemisers are convenient and hygienic organizing systems for composite capsules and syringes. The idea for this unique design originated from the Dutch dentist and prominent opinion leader Hein de Kloet.
The Q-Systemiser for capsules is made up of compartments with individual notches in which capsules can be placed. The syringe systemizer holds fourteen composite syringes. Both Quadrant Q-Systemisers contain an integrated brush dispenser with a unique rotating system.
Features Q-Systemizers:
Unique design
Sixteen capsule compartments or Fourteen composite syringes spaces
Practical and hygienic
More information about these products? Download the brochure below. Visit our distributor's page to discover where the products are available.
No information available.
| Art. nr. | Description | Contents |
| --- | --- | --- |
| FF21 | Quadrant Brush XL | 100x Brush |
| FF30 | Quadrant Anterior Shine Tool (QUAST) | 12x QUAST |
| FG40 | Quadrant Systemizer for caps | 1x Systemizer for Caps, 100x Quadrant Brush XL |
| FG41 | Quadrant Systemizer for syringes | 1x Systemizerfor Syringes, 100x Quadrant Brush XL |