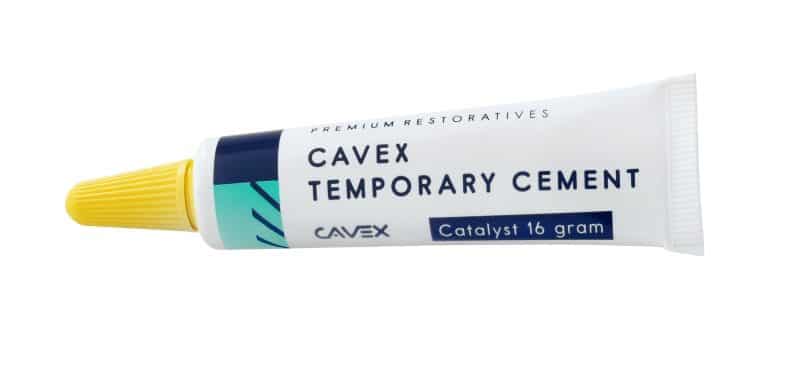 Cavex Temporary Cement
A temporary dental cement must be reliable and provide effective protection. It should also be easy to apply and remove without leaving any residue. Cavex developed the ideal solution to meet these needs: Cavex Temporary Cement. The properties of the cement are perfect for cementing temporary crowns and bridges. Cavex Temporary Cement is user-friendly, odorless, aesthetically pleasing, and also eugenol-free.
Dental cement with the perfect properties
Cavex Temporary Cement has the perfect properties for cementing temporary crowns and bridges. It ensures that the prepared element is completely sealed, which helps prevent bacterial infections. In addition, the cement does not interfere with composite materials.
Dental cement application
Take two equal parts of the base and catalyst tubes and mix them with the spatula for 30 seconds to form a homogeneous paste. The paste has a curing time of two minutes in the mouth. After that, excess cement can be removed. The total curing time of the cement is five minutes.
More information about this product? Download the brochure below. Visit our distributor's page to discover where the product is available.
Features
Easy to use
Eugenol free
Distinctive color
Perfect sealing
Low solubility
Short curing time
Easy to remove
CLINICAL RATING OF 86%
BY THE DENTAL ADVISOR
We value the opinion of the dentist. That is why we let The Dental Advisor test our Temporary Cement. After a clinical evaluation by a team of dentists, this product received a clinical rating of no less than 86%, which corresponds to 4 (out of max. 5) pluses. Professionals praise the ease of use and consistency of Cavex Temporary Cement.
Instructions For Use

Protocols

Documents
Assortment

Brochures

Product info

MSDS

Publications