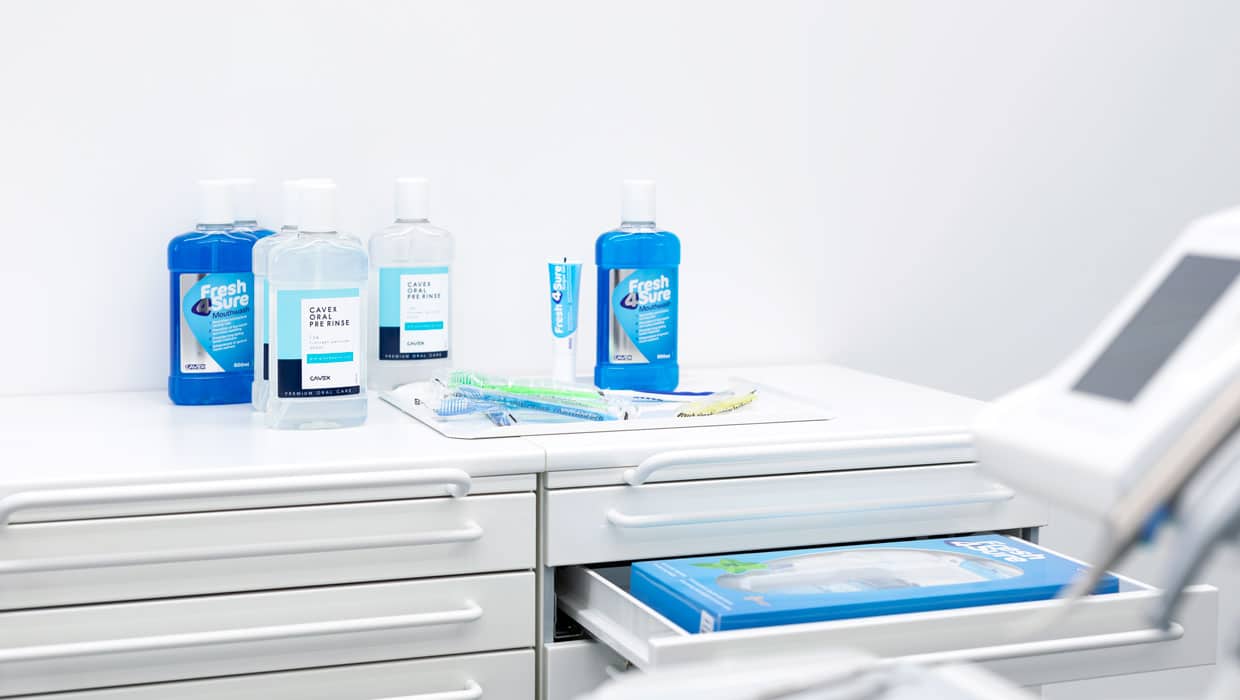 Cavex oral care products keep the mouth fresh and healthy
Maintaining a clean mouth and teeth is essential to prevent bad breath. The demand for effective oral care products increases as more and more people become aware of the importance of oral hygiene. Cavex offers a solution based on various innovative oral care products that can prevent halitosis and dry mouth while increasing oral health.
What is halitosis?
Halitosis is a condition of malodor of a patient's breath due to an abundance of 'bad' bacteria. Eighty percent of the mouth consists of soft tissue, which combined with the relatively high temperature, creates an ideal place for bacteria to multiply. The main cause of bad breath is the production of sulfurous gases by these bacteria.
Halitosis is a common problem. A lot of people deal with halitosis, many even weekly. In many cases, brushing teeth thoroughly and consistently alone is not sufficient to get rid of bad breath. Halitosis can only be prevented with good and total oral care.
Prevent bad breath with good oral care
85% of halitosis can be attributed to poor oral health. Other causes of bad breath are smoking, genetic predisposition, dry mouth, and medication. Cavex oral care products are aimed at curing bad breath by significantly improving oral health. Let us introduce three of our innovative systems that prevent bad breath.
Cavex Fresh4Sure
Cavex Fresh4Sure is an innovative 3-step oral care system that promotes great oral health. The system naturally restores the balance between 'good' and 'bad' bacteria in the mouth. Stabilizing oral bacteria is essential for a healthy mouth and fresh breath.
Cavex Fresh4Sure includes a tongue scraper, mouth rinse, and tongue gel. These are to be used in three simple steps:
 Clean the tongue with the tongue scraper
 Remove oral bacteria with the mouthwash
Prevent the growth of new 'bad' bacteria with the tongue gel
Get the best Oral care with Cavex Fresh4Sure.
Cavex Healthypops
Cavex Healthypops are the latest addition to the oral care product line. These sugar-free moisturizing lollipops improve oral health. Healthypops are available in different mouth-watering flavors: cherry, orange, and mint. The lollipops contain an effective ingredient for moistening the dry mouth and hence to a fresh breath. Of course, these tasty pops are also very suitable as a responsible snack! Furthermore, the lollipops contain no sugar, gluten, dairy, soy, nuts, and added aromas and flavors. Consequently, they can be used by diabetic patients safely.
Cavex Oral Pre Rinse
Cavex also developed Oral Pre Rinse for use in dental offices. We combined scientific findings with years of experience in the field of hydrogen peroxide and mouthwashes. The result? A pre-procedural mouth rinse that significantly reduces the risk of any viruses spreading, including the coronavirus.
The innovative Cavex Oral Pre Rinse mouthwash is instantly ready for use. The product comes in 500 ml bottles with an integrated dosing cup. Each bottle is sufficient for about 50 rinses.
Discover the complete Cavex product line
Choose the best Oral Care with Cavex products. More information about the different Cavex oral care products? Visit the Oral Care category and discover all our innovative systems.