In the 30s amalgam was conquering the world
In the 1930s, the focus was on export. In particular, the product Cavex Silver Amalgam quickly conquered the world. In the 1950s, the product was developed that still remains the benchmark for alginate impression materials to this day: Cavex CA 37. When the organization was split up in the 1970s, two companies arose: 'Keur & Sneltjes' and 'Cavex Holland'. Since then, Cavex Holland has continued to innovate and a wide range of progressive products has been developed in the factory that is traditionally located in Haarlem. There are now five different alginates. In addition, also various accessories for the correct storage and processing of alginate have been invented.
Introduction of  Cavex Bite&White
In 2010, the first Cavex Bite&White whitening solution appeared. Since then, an impressive range of products has also been built up in the field of whitening. Dentists all over the world use this to the full satisfaction of themselves and their patients. The latest developments within Cavex are in the field of Oral Care. Examples include the Fresh4Sure 3-step halitosis solution and the pre-procedural mouthwash Cavex Oral Pre Rinse. In this article you can read more about all recent innovations.
Cavex Cream alginate: Dental Advisor Top Award Winner for four years in a row!

Alginate is the core of Cavex. This translates into our slogan "Your Impression Is Our Specialty!". Every dental professional has worked with Cavex alginate at some point, during their studies or in the dental office. There are now five alginates, each with specific and unique properties. Our newest alginate is Cavex Cream. It is known for its detail representation and accuracy. The FDA states that a dental alginate must have a minimum detail reproduction of 50 µm. Most alginates therefore have 50, sometimes 25 µm. Only Cavex Cream has a detail rendering of only 5 µm. This makes the precision comparable to that of silicone impression material (5-15 µm). In addition to the detail, Cavex Cream is distinguished by its high tear strength and flexibility. And as the name implies, Cavex Cream can be easily blended into a smooth cream-like mixture. The ideal viscosity and the fresh bubblegum scent make impression taking more pleasant for the patient. These exceptional properties have ensured that Cavex Cream Alginate has been named Top Award Winner by The Dental Advisor for four consecutive years. We are proud of that and as a leading manufacturer we continue to do our utmost best to continue developing reliable and top quality products.

Moving quickly during the COVID-19 pandemic: development Cavex Oral Pre Rinse
The outbreak of the COVID-19 pandemic changed a lot. And Cavex changed with it of course! The development of our most recent product is a good example of this. Never before has a new product been conceived, developed, tested and introduced within Cavex in such a short time. Several scientific studies have shown that pre-procedural rinsing with hydrogen peroxide reduces the number of virus particles in the mouth. As a manufacturer of whitening materials based on hydrogen peroxide and a mouthwash against halitosis (Fresh4Sure), Cavex has knowledge of both the application of hydrogen peroxide and the production of a mouthwash. This resulted in Cavex Oral Pre Rinse. A pre-procedural mouthwash that combines the antiviral activity of hydrogen peroxide with the antiseptic strength of mouthwashes. Rinsing with Cavex Oral Pre Rinse for 30 to 60 seconds prior to a dental treatment can actively prevent the spread of viruses, including Corona.
10 years Cavex Bite&White whitening materials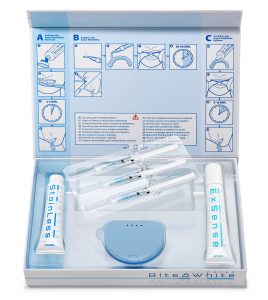 In the same Corona year, Cavex also celebrated a milestone. We have been active in the field of whitening since 2010. Since then, several Bite&White products have been developed. Over the past 10 years, the portfolio has grown into a complete range for effective and safe whitening treatments that each deliver lasting results. For years, the most important whitening product has been the Cavex Bite&White ABC Masterkit. Users can safely and effectively whiten their teeth using a custom made individual whitening tray in three steps: Activate, Bleach, Condition. In addition, separate syringes and a 3 Syringes pack are available for touch-up treatments. A ready-to-use solution are the 'Ready 2 Use' pre-filled, universal whitening trays. An In-Office variant based on 25% Hydrogen Peroxide Superior has recently been introduced for outside the EU. This is a unique temperature-stable whitening gel that has been developed and patented by Cavex. Because a whitening product may only contain a maximum of 6% hydrogen peroxide within the EU, the In-Office products are not available here. But the revolutionary HPS whitening gel, with 6% hydrogen peroxide, can be found in the Ready 2 Use pre-filled whitening trays. There is a suitable whitening solution in the Bite&White portfolio for everyone and every dentist can help patients to get a radiant and bright smile with natural white teeth.
Further expansion of whitening: Whitening Production Center on the Fustweg!
Cavex continues to develop in the field of whitening. Laughing is healthy and boosts our self-confidence. More and more people want a beautiful smile with natural white teeth. This results in a worldwide increase in the demand for effective and safe whitening treatments. In order to meet the growing demand, our factory has recently been expanded. Our Whitening Production Center is now located in the building opposite our head office in Haarlem, which is fully focused on the production of our whitening solutions. When it is possible, we hope to welcome you again in Haarlem for events, lectures, workshops and special courses. Then you can take a look behind the scenes at the one and only Dutch dental manufacturer!
Click here to see  our complete product portfolio.