Pre-procedural rinsing
In 2020, Corona hit the Dutch dental care sector hard. The practices are now fully open again and you can treat your patients again. Since the start of Corona, much has been published about the effectiveness of rinsing with hydrogen peroxide (H2O2) to remove the sources of infection. This is also included in the dental guidelines to rinse with 1 to 2% hydrogen peroxide for 30 to 60 seconds in advance of the dental treatment. The ACTA and the UMCG published about this in March 2020 in NTVT.

Development of Cavex Oral Pre Rinse
 The virus is still here and still causes infections. During the very first outbreak of Covid-19 in 2020, Cavex Holland rapidly developed Cavex Oral Pre Rinse. The combination of scientific information with years of experience with hydrogen peroxide and mouth washes such as Fresh4Sure has resulted in a pre-procedural water-based mouthwash with 1.5% stabilized hydrogen peroxide. Pre-procedural rinsing greatly reduces the number of microorganisms in the oral cavity and thus the risk of contamination with viruses, including the Corona virus. Which ingredients ensure this reduction?
Pleasant rinsing for the patient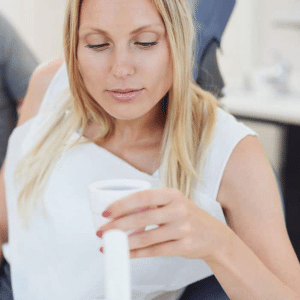 Cavex Oral Pre Rinse contains 1.5% stabilized hydrogen peroxide. Because it is stabilized, you and your patient can rest assured that the percentage is always sufficient to be effective. A bio adhesive has been added to the mouthwash for the correct viscosity and foam condition. The antibacterial effect of erythritol enhances the cleansing effect. Further additions of glycerine against dry mouth and a light mint flavor make it pleasant for your patient to rinse before the treatment. The 500 ml bottle is suitable for 50 mouthwashes and is immediately ready for use. There is an integrated measuring cup on the bottle. This will give you just the right dose when you squeeze the bottle. You do not have to perform any additional actions and it is easy to use. This way you can quickly get started with the treatment.
A solution to treat sensitive teeth
Many patients suffer from sensitive teeth. In a survey executed by Cavex among dental hygienists, almost all participants indicated that they experienced this in their practice. So it is a frequent and often troublesome problem, in which case not every solution works for everyone. Our Oral Care portfolio contains an highly suitable product for the treatment of sensitive teeth: Cavex ExSense. It is possible to use this in the chair, but it can also be used by the patient at home. This can be a first step to reduce sensitivity. What exactly does this product do?
Cavex ExSense as a first step against sensitivity

.Cavex ExSense conditioner is a simple, accessible and biocompatible solution. The basic ingredient is hydroxyapatite. This is an essential element of tooth enamel. In many cases it already works immediately and the sensitivity decreases due to blockage of the tubules. It is possible to treat your patient with this at the chair and then instruct the patient to continue using it at home. The gel can be applied with a finger or cotton swab. This is especially effective at the tooth neck. Cavex recommends applying ExSense in the morning after brushing the teeth and repeating this before going to bed. In case of persistent sensitivity, our recommendation is to keep repeating this for a week.
Bad breath and halitosis
Another common problem besides tooth sensitivity is bad breath. The magnitude of this problem is more extensive than expected. No less than 90% of the Dutch people state that they come into contact with halitosis, almost 40% of them even weekly. This does not only concern people who experience bad breath in themselves, but it also concerns people in their environment such as colleagues, friends and partners. Often people wish not to say anything about it, because they don't want to hurt the other person. The smell of rotten eggs is a well-known example of the smell that sulfur gases can cause. Sometimes it concerns an extra-oral problem. This comes from the stomach or intestines. In most cases, however, it is an intra-oral problem. These patients usually don't have a good oral health. What can you as a dental professional do about this?
Active substances to treat halitosis
There are several active substances to treat halitosis. Antibiotics are effective, but they also kill the good bacteria and can lead to bacterial resistance or a gray tongue. Chlorhexidine is antibacterial and therefore much recommended as a temporary rinse against infections after, for example, after a surgery. It is too aggressive for long-term use. The teeth can also discolour if you use it for a longer period. Cetylpyridium Chloride (CPC) has a similar effect; this is also antibacterial. It can also discolor the tongue and teeth. Alcohol kills the bacteria, but at the same time dries out the mouth and burns. Sodium Lauryl Sulfate is a well-known ingredient in many shampoos because of its foaming effect. However, it has no effect on bacteria and can be irritating to skin and soft tissues. What solution does Cavex have for both dental professionals and their patients?
Cavex Fresh4Sure contributes to remedying bad breath and halitosis

Cavex has developed a complete solution, which aims at killing the bacteria that produce sulfur gasses while sparing the 'good bacteria'. Fresh4Sure contains natural ingredients instead of aggressive substances. The main ingredient is zinc citrate. This binds sulfur gas-producing bacteria that the patient after rinsing spits out. The mucoadhesive polymers ensure that the active ingredients stick to the soft tissues. Think of a protective layer that lasts a little longer. It also contains erythritol, known for its antibacterial effect. This also gives the mouthwash its pleasant sweet taste. It also contains glycerine as a mouth moisturizing agent. The ingredients of the tongue gel are almost identical to the ingredients in the mouthwash. What stands out here is methylglyoxal. This is an antibacterial and antifungal component from Manuka honey that prevents new bacteria from attaching themselves in the mouth. The fact that it is an extract from honey does not mean that there is any sugar in the gel. How does the Fresh4Sure 3-step system work?
• Step 1: Using the scraper, the patient gently removes the film from the tongue.
• Step 2: Rinse and gargle with the mouthwash for 30 seconds (once a day).
• Step 3: Applying the tongue gel (several times a day).
Contribution to good oral health
Why is this so important now? Bad breath affects the social environment. Fortunately, there is a solution that contributes to good oral health. Fresh4Sure is not only suitable for halitosis. It is also good to use as a rinse after a treatment or after meals for fresh breath.
Sugar-free candy with a dental function
As described earlier, there is a large group of patients who suffer from bad breath or halitosis. In older patients, this is often due to medication use. It is also possible that they are no longer able to keep their oral hygiene in order. In addition, there is a large group, mostly elderly patients, who also suffer from a dry mouth. Sometimes this is due to oncological treatments that prevent the salivary glands from working properly. Candy or pastilles can help activate the salivary glands. However, these pose a risk of choking and often contain a lot of sugar. Cavex has produced an innovative alternative: sugar-free lollipops with a dental function that contribute to oral care. How does that work?
Cavex Healthypops moisten the mouth and help against bad breath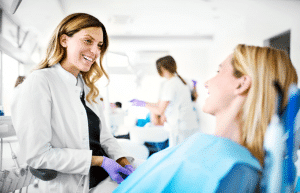 The Cavex Healthypops are sugar-free lollipops based on erythritol. This has both an antibacterial effect and is an artificial sweetener. In addition, it prevents to tooth decay. The lollipops contain no gluten, dairy, soy or nuts. Natural fragrances and flavors have been added. The cherry lollipops for xerostomia moisten the mouth. The mint and orange lollipops help against halitosis. Because they don't contain any sugar, this makes them suitable for people with diabetes and as a sugar-free snack. In the dental practice, they can offer an opening to discuss halitosis, xerostomia and to start a treatment. It is also an accessible and practical tool for addressing the effects of sugar on oral health. What innovations will the future bring for dental hygienists?
New: Polishing with Cavex Prophy Paste
At the end of a thorough cleaning treatment, the dental hygienist finishes it by polishing the teeth. This makes the tooth surface feel smooth and the teeth are bright and shiny again. The latest innovation that Cavex is currently working on is in the field of polishing: Cavex Prophy Paste. There will be two variants: Cavex Prophy Paste Fine and Cavex Prophy Paste Regular. Both were recently sent to a testing panel of dental hygienists to try. To be continued! What else do we do?
CavExperience
In the spring of 2021 Cavex organized the very first CavExperience especially for the dental hygienist. During this webinar, various topics were discussed, such as sensitive teeth and halitosis. It was an interactive session in which polls were used. After the webinar, each participant received a goodie box to test all Oral Care products discussed during the different blocks in the webinar. We have received nice and positive reactions from both dental hygienists and their patients. A large number of participants of the CavExperience subsequently indicated that they would like to participate in the Cavex test panel. In the near future Cavex will organize another CavExperience.
Close collaboration with the dental hygienist
.Cavex also sees the growing role of the dental hygienist in Dutch dental care. That is why we develop innovative products that offer added value for both the dental hygienist and the patient. We like to develop this together with professionals! The collaboration with a test panel of dental hygienists is a good example of this. It is this close collaboration that enables us to develop effective products that support the dental hygienist.
Questions, additional information or test panel participation?
Do you have any questions about this article? Or would you like to receive additional information or would you also like to participate in the Cavex test panel? That's all possible. Please send an email to dental@cavex.nl with your specific request.
For our complete Oral Care assortment click here.